Features & Screenshots
Intuitive Interface
Much effort was taken to make Pomoto simple enough for anyone to use. A clean and uncluttered interface gives a view into your iPhoto library that is specifically tailored to creating your personal web photo gallery.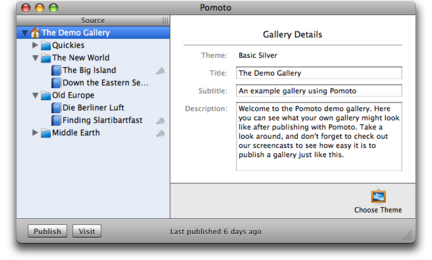 Elegant Themes
Pomoto includes several built in themes that emphasize clean and minimal design in order to highlight your photos. Easily navigable and free of distractions, your online gallery will be a zenic refuge from a web full of ads and clutter.
Refined Control
While Pomoto might be simple and easy to use, that doesn't mean we've skimped on features. It just means we take the time to determine which features are truly useful and then present them in a way that is neither distracting nor confusing.
Individual photo selection
Per album theme selection
Private albums
Your personal URL (ie. yourname.pomoto.com)
An RSS feed for your friends to stay up to day
Text processing with Markdown
Integration with Google Analytics
Smart Publishing
Pomoto was designed with the understanding that a photo gallery is rarely static. Whether you're adding titles to your photos or adding an album of your latest trip, Pomoto will go with the flow. Intelligent publishing ensures that only your latest changes will be uploaded and that your online gallery will always be in sync.
Beautiful Results
The Pomoto application is only half of the story. The real fun starts once your photos are online. Your Pomoto gallery continues our ideals of simplicity and elegance. While we utilize modern techniques and styling, we realize that gimmicks and feature bloat do more harm than good. The best way to get a feel for our galleries is to have a look at our
demo gallery
.
On Facebook?
Pomoto integrates seamlessly with Facebook. Your most recently added albums are beautifully displayed on your profile and your friends will be notified in their news feed whenever you add new albums. Take a look at
Pomoto on Facebook
to learn more and to add the Pomoto application.